Ally Online Banking Service: a Word about Login and Password
Ally Financial Inc., formerly a part of General Motors financial group located in Detroit, US, now has earned some popularity as the holder of Ally online banking service. The main function of this service is an auto loan or other vehicle payment services. However, Ally Internet banking supports also some other functions such as mortgage, loans, insurances and credit card operations.
It is more than 15 millions of customers using Ally banking online. It operates also as online banking for business purposes. Over 80% of current actives for Ally.com belong to US State Treasury.
Signing Up to Ally, Inc. Online Service
Ally.com is the main site of Ally online banking. Let us demonstrate the most important fragment of the main page, placed close to the upper-right corner.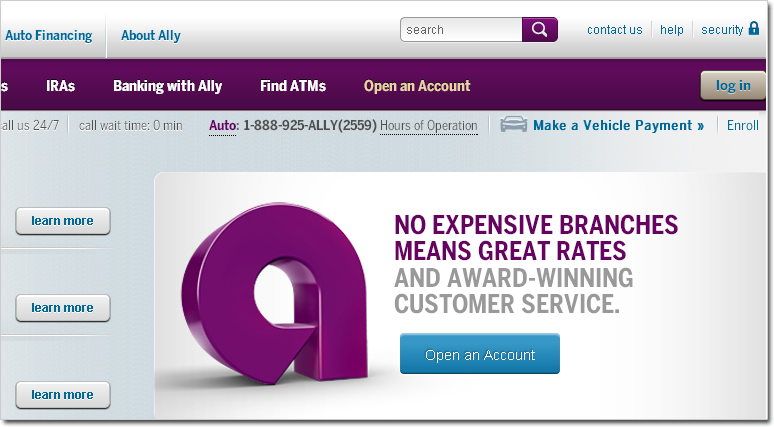 To create an Ally account, click "Open an Account" on the main page (see picture) and then follow the simple procedure described. Alternatively, you may click to "Enroll" to start vehicle payment operations. As you can see, all the options in such case manipulate somehow with a vehicle theme. This is due to overall specialization of Ally Financial, Inc.
A simple sequence of actions will be offered to you. Just follow this sequence to create an account or enroll for payments.
A Word about Security
We are strongly insisting that you must choose carefully your login and password, as it affects your financial safety directly. Do not use any data linked to you on public, such as Facebook account name or your spouse's date of birth, as parts of your password! All you can accomplish doing it is the simplification of potential hacker's task.
So if you want to be secure with Ally web banking, let you take some safety measures.
Do not use computers accessed by public or other persons for your banking operations! If you need to do it, change your password from secured private machine as quick as possible!
Do not allow to auto-fill or password saving on your mobile devices, as a successful thief can be granted not only by your valued piece of equipment, but also by an access to your funds!
Keep your passwords in a safe place (perhaps in your memory), to prevent stealing of this crucial data!
Entering an Existing Ally Account
Ally Online Banking sign in is not a tricky process. Click "Log in" and enter both your name and password in the form appeared. It is very straightforward.
As you click on "Log in" button, two options will be provided for you: "Bank Login" to enter a common Ally bank online service, and "Auto login" to operate with vehicle payments (don't confuse the last option with any of automatic actions!). Then you may use Ally web banking service as you need it.
What to Do If You Lost Your Ally Online Banking Login or Password?
Your Ally Banking login is somehow secured from losing a password, as for this cause Ally Web bank provides you with password retrieving service. Clock "Log in", and in the form opened two options will be appeared: "Forgot your username?" and "Forgot your password?".
The first of these options allows you to retrieve lost Ally Online Banking login. The second is used to retrieve your password. Just click on appropriate link and follow the instructions.
These are some specialized software that can secure you from losing passwords and logins, such as Handy Password. These utilities can keep your personal data firmly and for a long time.
See also:
HSBC bank account
Citigroup bank login
JPMorgan Chase bank login

Back to
online banking
screenshots list.