Harris Web Banking: Securing Your Personal Account from Perils
BMO Harris Bank, US, one of largest banks in Midwest, has a well-developed branch of online services, from Web pages supporting Harris banking online to specialized apps for iPhone/iPad available on AppStore for safe operations with loans, mortgages, financial services and insurances from your mobile device.
As most users enter Harris online banking services through Web interface, let us describe shortly this most popular option of Harris bank sign in.
All Options in One Side
Look at the right side of the Harrisbank.com login main page located at https://www.bmoharris.com/us (also the specialized login page is available, located at https://www5.harrisbank.com/HOB/retail/logon ).
For simplicity, we will describe Harris online banking sign in from the main page, as other means of login having only slight differences from it.
This is just a fragment of the main page, but it contains all we need in practice to use Harris bank online!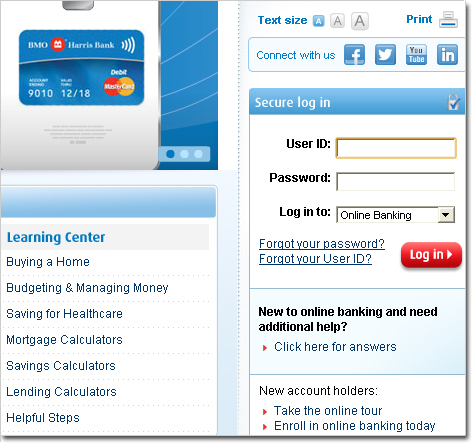 Harris Web Banking Sign In
To start using an already existing account, just fill "User ID" and "Password" fields depicted above. Then select a type of service your need from the drop-down list "Log in to:" below these fields, and click the "Log in" button. Congratulations! You just enter the Harris online banking service without any special effort.
Retrieving Your Account Data from Harris Internet Banking
These are two options just left to "Log in" button; the links "Forgot your password?" and "Forgot your User ID?" Both options can be used if you lose or forgot your Harris account data. Just click on an appropriate link to retrieve your personal Harris online banking login or password.
If you need to retrieve your personal account data so often, may be you want to try specialized software systems for user ID and password keeping. Such software, like Handy Password from Novosoft, can securely keep all your login and password data for a time long enough to stop using any particular service or change your personal account data.
How to Create a New Harris Internet Banking Account
Just at the bottom of logon box placed the link titled "Enroll in online banking today". You may then register using your BMO Harris credit card or just with login data. In later case, you must select a type of your account (savings, mortgage, loan etc.), as well as all of your account data.
As a safety measure, we suggest that you may not use your well-known personal data as elements of your account data, especially as parts of the password. Thieves will be glad for such a gift if they attempt to get an access to your Harris banking login and find surprisingly that the account is secured by the password consisting of facts for you readily available on your Twitter!
Do not enroll or retrieve your personal data from public places! It is completely against security rules and common sense! Use private, preferable not-too-mobile, devices for such important actions. Remember: your valued data that can be a key to your savings may be lost not only through cyber-crimes but as an action of, say, an insolent street urchin removing it from your pocket just with your precious smartphone!
See also:
Ourworld login automatically
Canada.com login automatically
TCF Bank online banking
Back to
online banking
screenshots list.