Zions Online Banking Registration Tips
Zions First National Bank, an old American financial structure operating primarily at Utah and Idaho, has a well-developed online service branch. Available at zionsbank.com, these Zions online banking services covering many areas of financial operations, from insurances and savings to credit card services and mortgage loans.
Zion Online Banking Sign In Process
Zion banking online operations requires registration or signing in. All such activities can be performed using forms and links located at the upper left side of the main page.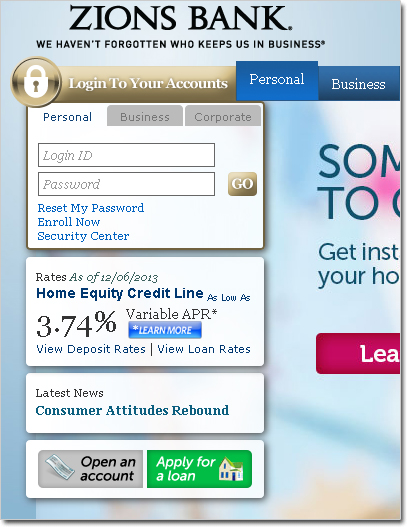 Let us explain the functionality of these controls and links:
Fields "Login ID" and "Password" are for entering your Zion user ID and Zion customer password. Enter these personal data and then click to "Go" button; thus you will be granted by an access to all the Zion Internet banking services available;
"Reset My Password" link, just for the case if you forgot your password;
"Enroll Now" link to sign up to Zion web banking service;
"Security Center" link, which guides you to pages explicating security-oriented matters.
Above these elements, the three page tabs are located. We are described the first of it, the "Personal" tab. The next tab titled "Business" is a bit more "serious"; it doesn't contain any password retrieving or enroll forms and provides another field required for Zion online banking — the "Company ID" field. The third tab, labeled "Corporate", contains a button that leads to another service provided by Zion bank online — a "Treasury Gateway" product for corporate users.
Zion Bank Online Enrollment Process
Before Zion bank sign in actions will available for you, it is a need to enroll to online services using "Enroll Now" link described above. It is needed before you can operate with Zion online banking login that you have an account or credit card of some type in Zions. It is additional verification information required such as last four digits of your personal SSN and parameters of last deposit on a selected account.
We can also recommend you to choose as strong password as you can remember (offline tools of remembrance such as secured notepads can help you, as well as good software utilities such as Handy Password, dedicated for keeping your personal registration data for, perhaps, a lifetime).
In all the other aspects, the process of enrollment to Zion online banking service is self-explaining and obvious. It can't take very much effort from you.
Opening an Account
Alternatively, you may click on "Open an account" button just below the registration form. This option offers you to create the new account in Zions. Press the button, and you will see the pop-up window containing a list of checking and savings account types possible. Then press the selected account type and follow the instructions to create a new personal account.
Resetting Password Data
If you need to reset your password, just click on appropriate options on registration panel, and then enter your ID in an opening form. You will receive instructions how to reset, and by later change, your compromised password in Zions.
See also:
Roal Bank Login
National City Online Banking
Capital Bank login

Back to
online banking
screenshots list.