Handy Password 4.9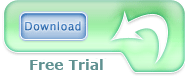 Handy Password 4.9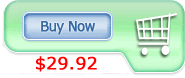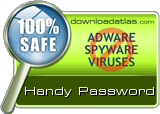 Secure password manager
A high-level security password manager is of a special importance when you have such a large amount of personal information that you just can't keep it all in mind.
Handy Password is not only a tool that can ease up you everyday life and save you a lot of time. It is also a very password software that will provide a high level of protection to your data. In order to prevent your personal data from being stolen or lost, online password manager has some special features:
Encryption. The program uses a 128-bit encryption algorithm, which has proved to guarantee a high level of security;
Crack-proof passwords. Our password keeper has a built-in generator of strong passwords. With such a password your data are very hard to access for a third part;
Master password. You don't have to memorize all passwords. You'll just have one master password to access all of them;
Auto locking. The program will lock up automatically over a set up period of time;
Anti-keylogger. Handy password fills in web forms automatically, so your information is protected against keyloggers;
Portable version. You can install a password manager to a flash drive, not giving credence to any computer and have it with you wherever you go.
When it comes to extremely important data protection, a strong secure password manager is a necessity. With Handy Password you can be sure that your information is protected from unauthorized access.
Download Password manager
to keep your personal information secure and to automatically fill web-forms.
See also: Web account manager