Excite Sign in: Sign in Excite Account Automatically
Sign in Excite account automatically with a handy password manager.
To Sign in to your Excite account with a single click, please do the following:
Turn on Handy Password toolbar in Internet Explorer/Firefox;
Go to the http://registration.excite.com/;
Type in your Excite User and password;
Click the "Save" button on the Handy Password toolbar;
Check the "Show on Toolbar" checkbox in the opened "Save card" dialog;
Press "Enter".
From now on, click on the "Excite Sign in" button on the Handy Password toolbar to login to your Excite services automatically from any page in the Internet Explorer.
Handy Password is also called a bookmark manager, because "Excite Sign in" button appears on IE or Firefox browser toolbar like bookmark and contains not only filled form fields, but also a site url, so you can at once enter a site and login to it.
Read about ways of usage, benefits or features of Handy Password.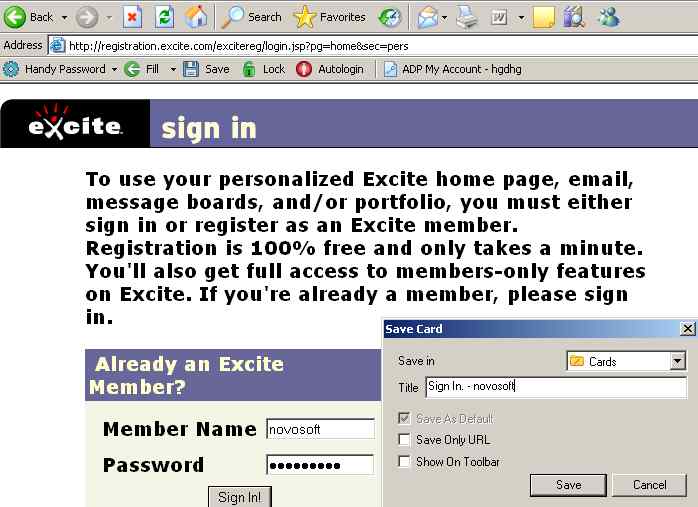 See also:
Bank of America online banking login
Check Google mail with a single click
Log in to AOL mobile with just one click

Back to Screenshots List