Frost Online Banking Login and Password Actions
As Frost web banking service is a notable addition to overall capacities of old and stable Frost Bank, any Frost client may deal with problems of login and password used by Frost bank online services.
To help users we were divide these problems by several categories explicated below. Generally, all the user interface elements manipulating with matters of login and password are placed close to the upper right corner of the Frost bank main page (https://www.frostbank.com/Pages/online-mobile-banking.aspx), as on the same place of most other pages: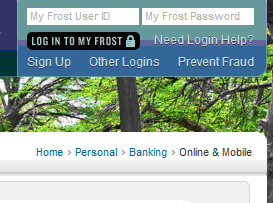 These elements are:
Frost bank sign in fields – "My Frost User ID" and "My Frost Password";
The secured button "Log In to My Frost";
The help hyperlink just right of the signing button explaining the elements and the procedure of Frost banking login;
The "Sign Up" link for new users wishing to create their own Frost online banking account;
Other useful links.
Let us explain these functions somewhat more detailed.
How to Start Using Frost Banking Online Services
Just click "Sign Up" and then complete the forms opened for you. Frost online banking service requires you having a checkcard/ATM with a 6-dingt protection PIN to start using it with Frost. You may not expect any problems during the registration process if you can fill all the forms correctly.
Before choosing user ID and password, think twice about matters of security. Do not use any obvious passwords and, perhaps, obvious logins. If you are, say, a US president, it is not a point to use "MyWhiteHouse" as a login and, so more, it will be completely stupid to set up for the password a text "Hail to the chief who have chosen by the nation" followed by a year of your election. This method is too obvious for thieves or hackers, anyway.
Frost Banking Login Actions
You may log in to Frost online banking just by filling "My Frost User ID" and "My Frost Password" fields on the form depicted above, and then by clicking "Log In to My Frost" button.
Alternatively you may use the specialized Frost login page located at https://www.frostbank.com/pages/logins.aspx for Frost online banking sign in with general purposes or for specialized functions such as investments or insurance programs. Frost business clients may like the later options, as it provides a possibility to sign in directly as business customers, not as Frost personal users.
The Matter of Security
When you surf Frost banking online services, do not forget about security.
Some useful security advices and tips are placed just on the Frost security help page located at https://www.frostbank.com/Pages/Security.aspx; these are not for Frost banking login only but also for the overall security matters, such as about protection of your mobile devices or about an extra layer of protection (Security Token) added to your Cash Manager.
As a general advice, we can also insist that you must not to use auto-fill login and password options at your mobile devices, as unscrupulous evil-doers grabbing your device in hands may be supplied by extra trophy of your savings in addition to your stolen device.
Retrieving Password and User ID
If you forget your Frost internet banking user ID or password, this system have not an obvious way to retrieve it. So we are recommending you to keep your personal data firmly. Some specialized software utilities, such as Handy Password, can keep your Frost account data (as well as any other registration data you need) for a long time without a risk of losing or leaking it.