Yahoo Mail Sign in: Quick and Easy Way
If you are a newcomer in a Yahoo, first of all you should sign in to Yahoo or create yahoo mail. Here you will find the useful instructions on how you can quickly and easily do Yahoo mail login (this article also will helps you if you have any yahoo mail sign in problems).
In order to create yahoo account you should do the following:
Choose on the main page of the official Yahoo web site the «Sign up for a new account» on the right side of the screen.
Then in the fields you need to enter your personal details, such as:
First and last name;
Yahoo username;
Password (You should create a password: better to use both the letters and numbers in the password to provide safety of your Yahoo account);
Mobile number;
Date of birth;
Optional recovery number.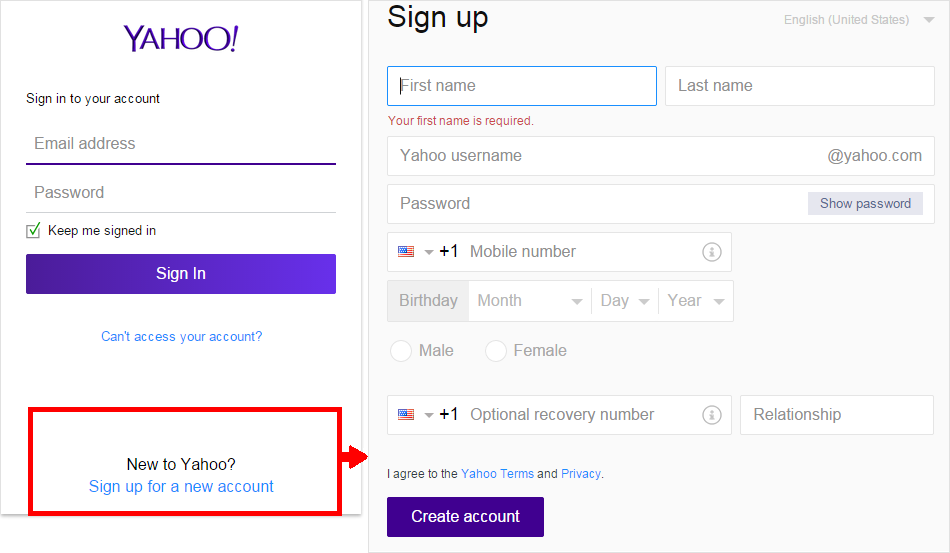 Images from login.yahoo.com
Click on «Create n account» and your registration in yahoo mail sign in finished
Help? If you have any difficulties with yahoo mail sign in or faced such yahoo mail problems as account setup please click at «Help» in the in the upper right corner of the screen and choose one of the encountered yahoo mail problems:
Can't access account (then read instructions below).
Resolve the yahoo mail login problems.
Want to report abuse of spam (choose one of the topics that you care about which will appear on the next page).

If you faced such yahoo mail problems as Yahoo mail forgot password, Yahoo mail login problems or Yahoo password recovery you should follow simple instructions below.
Forgot Yahoo mail login or password?
In order to yahoo password recovery click at the «Can't access tour account?» on the right side of the screen then enter your Yahoo email.
If you do not remember your Yahoo email address click at the «I don't know my Yahoo email address» on the next page and then enter your alternate email address or mobile number.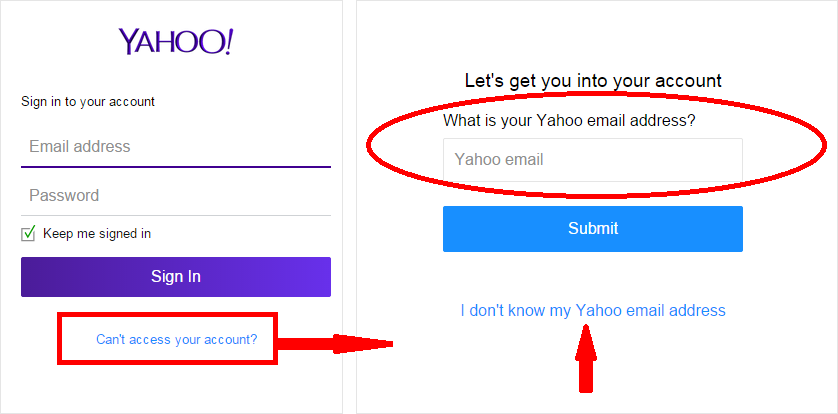 We wish you a pleasant and enjoyable use of Yahoo mail login!
Yahoo Mail login: sign in to Yahoo Mail with a Single Click
Login to your Yahoo mail automatically with a Handy Password manager.
To login with a single click please do the following:
Turn on Handy Password toolbar in Internet Explorer/Firefox;
Go to www.mail.yahoo.com;
Type in your Yahoo ID and password;
Click the "Save" button on the Handy Password toolbar;
Check the "Show on Toolbar" checkbox in the opened "Save card" dialog;
Press "Enter".
From now, to login to your Yahoo mail automatically, just click on the "Yahoo Mail" button.
Handy Password is also called a bookmark manager, because "Yahoo Mail" button appears on IE or Firefox browser toolbar like bookmark and contains not only filled form fields, but also a site url, so you can at once enter a site and login to it.
Read about ways of usage, benefits or features of Handy Password.
If you are really care about your Yahoo mail data safety, we suggest you solution for backup of your mail messages directly from the mail server. Handy Backup software performs backup of Yahoo mail easily and surely.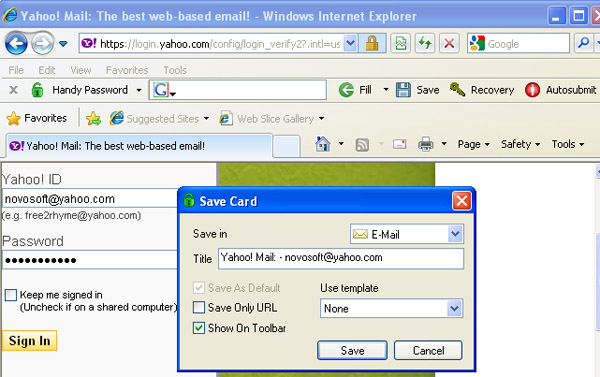 See also:
HSBC Malaysia bank account login screenshot
CNN online screenshot
Sun account
Outlook.com Login
Back to Screenshots List