How to Protect Your Email Address
All of you know about hackers, who steal many E-mail, PayPal, E-Trade accounts every day. But to steal your e-mail can not only hacker. There are a lot of cases when users give their passwords themselves.
There are lots of ways to swindle users. I'll try to tell you about some of them.
Trick with online support
Hacker sends you letter from the support service address(for example support@hotmail.com). There he writes that this service (for example PayPal) needs your login and password. Of course their letters seems much more serious then I wrote. Many users who don't know about this method of getting passwords send their login and password to the hacker.
How we can distinguish hacker from support service?
Support service will NEVER asks you to send your e-mail and password!!! And if you get e-mail with such request you should delete this letter right away.
Users of such services as PayPal, E-pay, E-trade, and Web Money suffer from this hacker's attacks very often.
Trick with duplicate site
Hacker sends you a letter to your e-mail account and says that you should to enter to your (for example) E-trade account and check there something. They pass link on this page and say you to go follow it. After that user opens page the same as E-trade official page. He pass there his username/user id and password and tries to login. But we have only one problem: this is hacker's page and he gets user's login and password.
How we can protect from such method?
Don't use the links in an email to get to a web page, if you suspect the message might not be authentic you shold delete it and if you want to get to the online service page please do it yourself.
Also you should to see what www address you log into. For example you get letter from PayPal. You go to the link and open
www.pelepal.com
You see that this page the same as online service official page, but it has another address.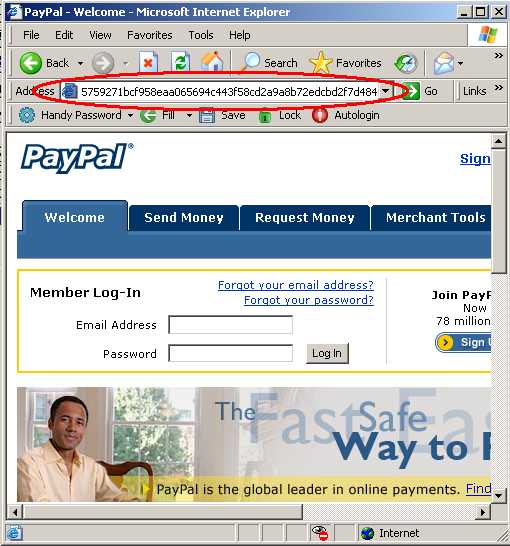 And the last advice
Regularly check your bank, credit and debit card statements to ensure that all transactions are legitimate. If anything is suspicious, contact your bank and all card issuers. You should regularly change your account password.
There are lots of other methods to ask you to tell your login and password. And every year from such methods suffer hundreds thousands people and organizations. Online services lose their authority and confidence. So they lose millions dollars.
We can't tell you about all method of hacking, because every day hackers invent new ones. But you can be careful using online services.
Saving password screenshots:
Check Google mail with a single click
,
My eBay account sign in
.
Handy Password is a password manager for secure Email login.
See also: How to login