PayPal Login and Account Password: How to Create and Sign in
PayPal.com login and password protect your PayPal account, allowing you safely using one of most popular digital payment systems in the world. To feel yourself secure with your PayPal account, please undertake some precautions and keep your PayPal login and password away from unscrupulous eye.
How to Obtain a PayPal Account Login
If you are a new user, you can create a PayPal account and select a password for it. All you need to do it is an actual email to receive messages from PayPal. For PayPal business login, you must do some other actions to verify your identity. You can have one personal and one business PayPal account.
Caveat! For using PayPal account, you need at least one of either VISA or MasterCard with a 3-digit security code. Some step of PayPal sign up procedure requires verifying your card as an identity key.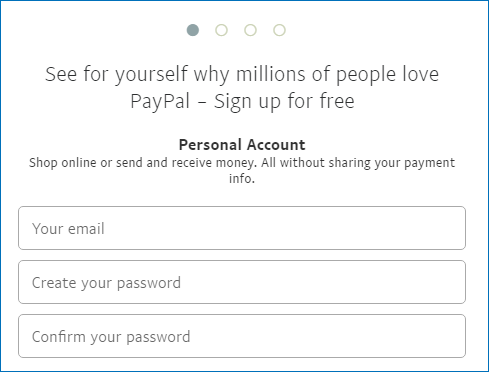 Images from PayPal.com
How I Can Create a "Strong" Password for My PayPal Account?
The PayPal password requirements are simple.
Firstly, use no obvious combinations such as "12345" or "HelloWorld" or your birthdate. (If you are obsessed about personal dates, use the date when you catch your first Pokemon, or meet your best friend for a first time...)
The second thing as to make your password easy to remember for you. It removes a necessity to keep the password written somewhere, which is highly unsecure (especially when matters touch your finances).
An advice: If you still cannot remember your password again and again, please use some password manager like Handy Password (see below) to secure your PayPal login data firmly.
How to Sign Up with a PayPal Business Account?
Registering a PayPal business account looks a bit more difficult than sign up to PayPal with a new personal account. To do it correctly, please read all actual instructions about business accounts on a PayPal website. You may also require some additional operations like obtaining a PayPal prepaid login.
How to Make PayPal Login My Account?
It is a simplest thing in the entire world. Just provide your email and password in a PayPal account login form (on a picture below) and click on "Log In" button to sign in to PayPal. Well done!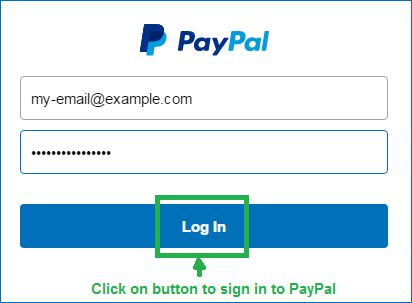 Images from PayPal.com
Note: If you are using PayPal with Ebay (remember, now these two are separate companies!) or with some other joint Internet service, then your PayPal account login form can be quite different from the default PayPal sign in page! Still, the login to PayPal procedure is always the same as described here.
Another Word about Security
When you are planning to log in to PayPal, let us give you some other security advices.
Do not use your PayPal login and password in public places or, especially, on public computers if you can avoid it! Any person who wants to conduct thievery or other intrinsic activity can grab an access to your PayPal account just by spying you.
In addition, be very careful when using an auto-filling in your mobile devices for PayPal account information. If you will lose such a device, you will also lose a security of your PayPal login and password. The best place to use PayPal is your home or, sometimes, office desktop or laptop.
Always be sure that your PayPal login credit card or debit card is active and secure.
How to Solve PayPal Login Problems
If you forgot your personal PayPal user ID and password, and cannot log in to PayPal for now, do not worry. Look at the PayPal registration form, and you will see buttons "Forgot?" under both E-mail and password fields.
By clicking to one of these buttons, you can start retrieving your PayPal.com login E-mail and password. You must answer to some questions, and if all your answers are correct, PayPal will send you all necessary restoration data for log in to PayPal account.
See also:
Yahoo mail login
Google mail login
Bank of America online banking