RBC login automatically
The Royal Bank of Canada is the country's largest company and bank with Online Banking being used by millions of Canadians. RBC sign in can be performed by Handy Password - a password manager with toolbar for Firefox/IE. The program handles a strongly protected database containing all your logins and passwords, in particular your Royal Bank login and password. The following instructions will help you set up RBC Banking online sign in:
Install Handy Password manager;
Turn on Handy Password toolbar in Internet Explorer/Firefox;
Go to the RBC Online Banking page;
Enter your Username or Client Card Number and Password;
Click the "Save" button on the Handy Password toolbar;
Check the "Show on Toolbar" checkbox in the opened "Save card" dialog;
Press "Enter".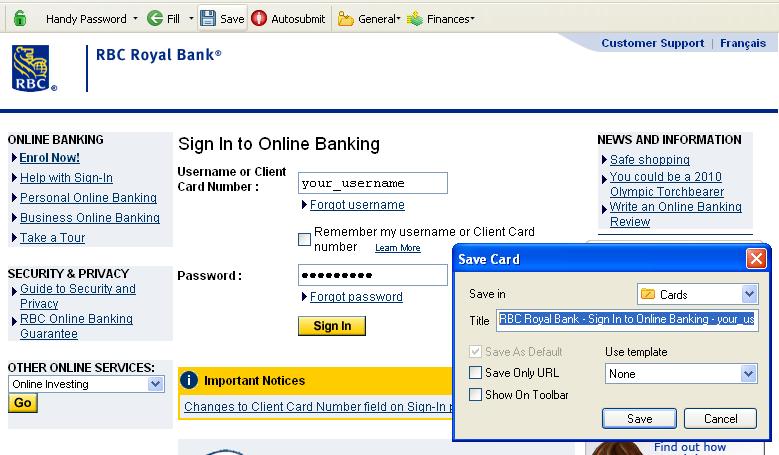 These simple steps will set up Royal Bank automatic login and will let Handy Password manager fully overtake this duty. In addition, Handy Password can work as a bookmark manager and save direct link to your RBC sign in to your Firefox/IE toolbar.
Read more about National bank login, Comerica web login, Orchard Bank login, Bank of America Online Banking.