UBS Online Banking: How to avoid difficulties of enrolling
Union Bank of Switzerland (UBS AG) is the biggest Swiss financial conglomerate, which provides financial services worldwide. International business of UBS includes three main areas: private wealth management, investment banking and asset management.
The UBS offers you a very convenient online banking service that helps you to save time and makes your financial operation more comfortable. Here you will find easy instructions how to do online banking login, sign in and other questions with your account.
UBS Online Banking: Sign In
In order to enroll in UBS online services, such as Client Account, Private Bank and UBS One Source you should do the following.
Choose on the main page of official UBS web site the «Enroll now» in the section of «Account login» on the upper right side of the screen. Then provide this information as requested:
Social Security or Taxpayer ID Number (if you do not have a SSN/TIN just enter your Passport Number);
Last Name;
Account Number;
Date of Birth.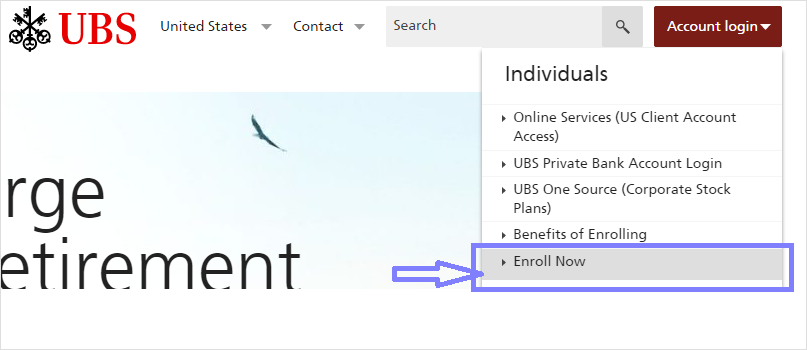 Images from UBS.com
If you have a Registration ID click at this title and enter the following:
Registration ID;
Temporary Password
Account Number
Problems with UBS online banking login
If you forgot the password or user name in your online banking account click at «Forgot Your User Name or Password» in the section of «Account login» click at this title and write the following:
Social Security/Tax ID Number;
Password.



Or:

Last four digits of your Social Security/Tax ID Number;
User Name.
If you don't have your Social Security/Tax ID Number please click t this inscription and enter your Account Number and User Name.
If you have any difficulties with UBS banking login or if you want ask a question to customer services manager of UBS bank please call:



888-279-3343 (if you face any technical problems);
800-354-9103 (client relations aspects);
Also you can ask all the questions that you interesting in by email. For that you need to click at «Contact» at the top of the screen and then click at «e-mail us» and then write question which interests you.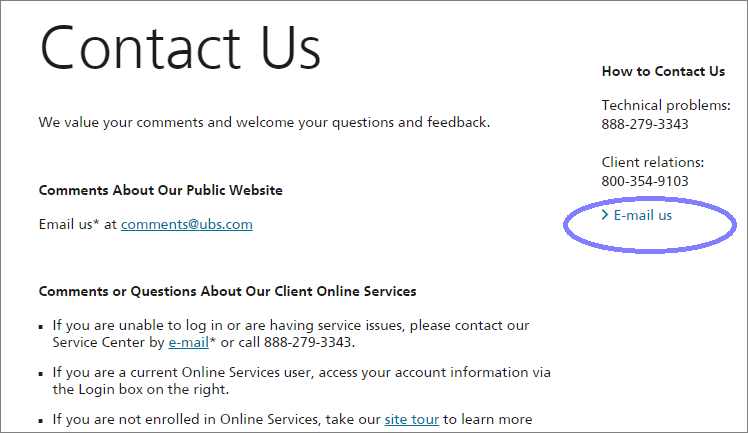 Furthermore, in the section «Contact» you can find useful comments and advices about client online services of UBS.
We wish you pleasant and joyful use of UBS online banking!
Handy Password for UBS Web Banking Account Protection and Automation
To solve the problem, there is Handy Password, the award password saver that supports the UBS web banking sign in routine to be automatic and secure.
The program will memorize your ID and password, keep it safely, and mechanically submit UBS web banking form. You will only have to click a single button to proceed.
Handy Password is secure. Contrary,Opposed many other password saver solutions and utilities, it does not keep your private data on a storage or use it. As for the keyboard to pass the account data, you only take it once. Therefore, the possibility of steal are really minimal.
Also, if you happened to open a fishing internet site, the tool will not let your UBS web banking ID and password be automatically submitted. So, you notify about the fraud.
UBS in a Step
UBS web banking login with Handy Password bookmark - way: the UBS button appears right in your browser toolbar as a bookmark. The button stand for submitted form fields and the web page URL. So, you can at once enter the web banking solution and log in. Download for free and try now!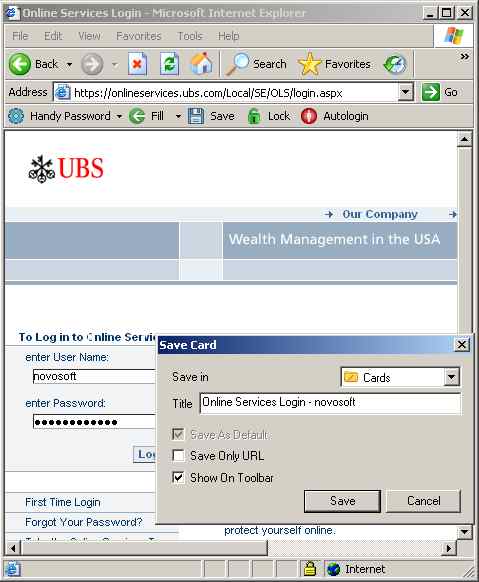 See also:
Sign in Earthlink mail account
Login eBay account
Yahoo mail sign in