Twitter Sign In: Overcoming the difficulties
Twitter sign in is your opportunity enter to the worldwide social network, where you could messaging using a web interface, SMS, instant messaging tools or third-party software clients for all age groups of Internet users. This article will helps you with such problems as Twitter log in, create my twitter account, reset password and other important issues.
Twitter Log In: Sign Up
If you want to create Twitter account, you need to perform several steps:
Choose on the main page of the official suite twitter.com the "sign up for Twitter" on the right side of the screen.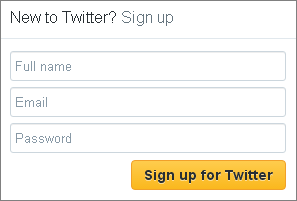 You need to enter your personal data:



Full name;
Phone or email;
Create a password.

Complete the registration.
You can also tailor Twitter to your interests by ticking the box marked "Tailor Twitter based on my recent website visits". This tool would fill your account with Tweets, links, media, and conversations from the people you're interested in. In other words, Twitter will make smarter and more relevant suggestions about whom you might want to follow.
    Images from www.twitter.com
Twitter Sign In: Solve the problems
You could sign in for Twitter by click at "Log in" on the main page of the official suite twitter.com on the right side of the screen and enter your personal information, such as:
Phone, email or Username.
Password.
If you can't log in to mobile.twitter.com , try to clearing cache and cookies for your device's mobile browser. You can clear cache and cookies from the settings menu for your mobile browser. Try logging in on a computer. If you can't get it to log in on a computer and from your mobile device's browser, turn your phone off for 5 minutes to reset the connection.
Twitter password reset or change
If you forgot your password and want to reset it, or if you want to change Twitter password, you need to do the following:
Click at "Forgot password" on the main page of the official suite twitter.com on the right side of the screen.
Enter your email, phone number, or username in order to find your Twitter account.
Request a temporary login code via email or SMS text message (if you have a verified phone number on your account).
Create a new password and confirm it (if you want to change twitter password, enter your current password, choose your new password).
Save your changes.
Twitter log in: need a help?
If you still have any questions and problems with Twitter account click at the section "Help" at the bottom of the screen. Choose the type of a problem that bothering you (Using Twitter, My account, Fix a problem, Polices and reporting). Then select the issue (logging in, managing your account, login trouble) and read carefully given instructions and advices.
Moreover, if you want ask a question you can contact with technical support of the Twitter.com. On order to do this you need to click at "technical support" in the section of "Help" and you will get detailed instructions about your specific case.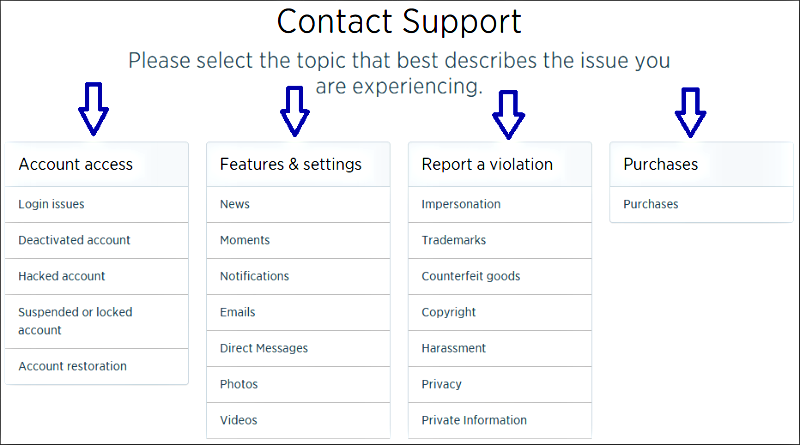 We wish you a pleasant use of Twitter login!
Twitter Login – Saves Logins Automatically
Handy Password manager is a perfect software to prevent the loss of twitter login and password. Handy Password saves login information automatically once you enter the site. Next time you enter the site Handy Password auto-fills your login and password automatically.
Handy Password could be installed to USB Flash drive and works like portable password keeper. It is very comfortable to access your internet services accounts from any PC for example in internet-cafe. Just insert your USB key and you are in.
You can feel absolutely safe because your twitter login data is protected by strong 128-bit encryption. Access to password database is protected by master-password. Instead of saving password in browser with web password manager your password couldn't be stolen by spyware or keylogger.
Handy Password also provides such useful features to save your time as automatically filling out web forms, quick entering accounts using bookmark manager and such handy ability as built-in random password generator.
Download free 30-day trial Handy Password version right now to evaluate all twitter login protection advantages!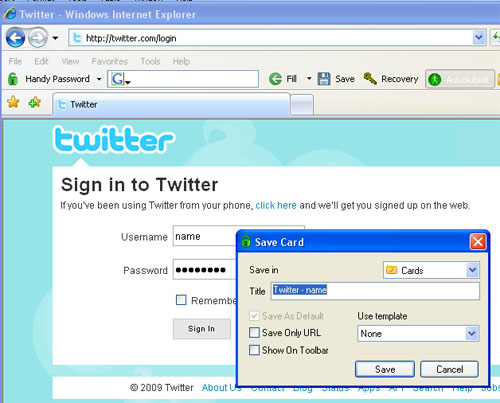 See also:
Canada.com login automatically
Ourworld login automatically
Tru.com login automatically
Facebook login