ClickBank Login: Questions About Your Account
ClickBank, one of the most successful online retailer that provides digital products around the world, offers you a very convenient online services that helps you save time and would makes you life more comfortable.
In this article you will find useful information about ClickBank login, sign up in online service and instructions how to solve problems with your account (forgot password, etc.).
ClickBank Sign Up: Quick and Easy Way
In order to create an account you should do the following:
Choose on the main page of official ClickBank web site the «Create account» on the upper right side of the screen.



See the image below: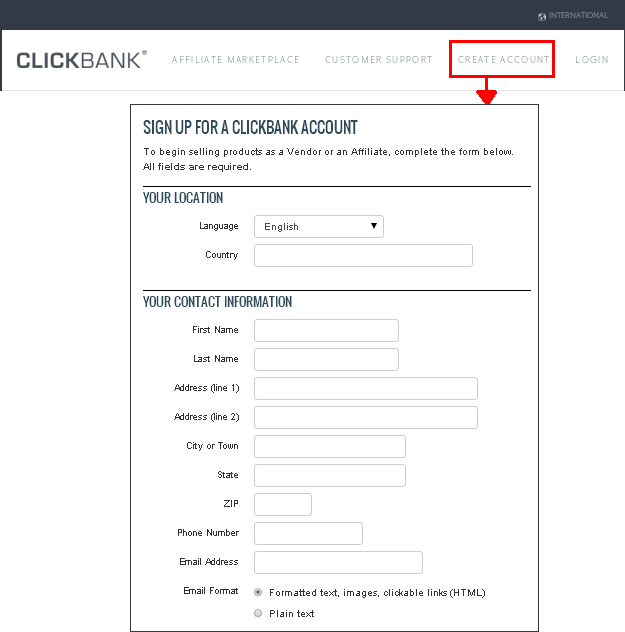 Images from ClickBank.com
Then you need to enter the necessary information:
Data about your location.
Your contact information (such as your name, address, phone number, etc.).
Information about your account (your account nickname, password (make certain to use for instance 2 upper-case letters, 2 lower-case letters, 2 numbers, 2 special symbols, such as: @#$%&*), your payee name.
Read attentively client contract and if your agree with all points click at «I have read and agree to the terms and conditions»
Next it is necessary to write a text from the image at the bottom of the page (if you cannot make out what is written on the picture click at «new image»)
Submit the account registration.
What to do if you forgot a password in ClickBank account:
Choose on the main page of official ClickBank web site the «Loginraquo; on the upper right side of the screen.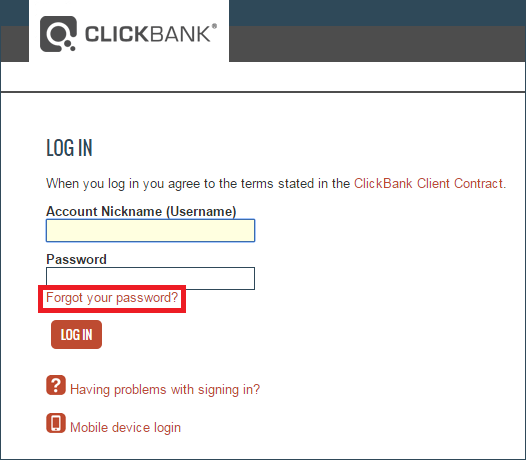 Then click at «Forgot your password?».
Enter your account nickname and e-mail address.
Problems with ClickBank account
If you faced any problems that do not mentioned above or you have any difficulties or questions please contact ClickBank by calling the following numbers:
1-800-390-6035 (toll free)
+1 208-345-4245 (international)
If you do not remember what is ClickBank ID or Username or else about your account click at «Having problems with signing in?» in «Login» section.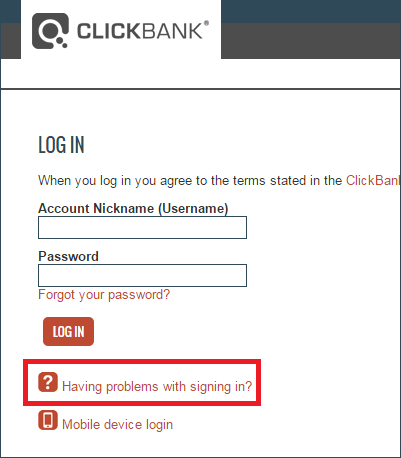 Also in order to make the interaction on the site more comfortable you can choose your language: click at «international» on the upper right side of the main page and select the language that you prefer.
We wish you a pleasant use of online services from ClickBank!
Handy Password for Clickbank Internet Banking ID Protection and Automation
To
solve the problem
, there is Handy Password, the award
password organizer
that serves the Clickbank Internet banking sign in routine to be automatic and secure.
The program will memorize your ID and password, keep it safely, and quickly put Clickbank Internet banking form. You will only have to click a single button to proceed.
Handy Password is secure. In contrast many other password organizer solutions and software, it does not keep your own data on a storage or use it. As for the keyboard to send the ID data, you only take it once. Therefore, the probability of steal are really minimal.
Also, if you happened to open a fishing internet site, the software will not let your Clickbank Internet banking ID and password be automatically submitted. So, you inform about the fraud.
Clickbank in a Step
Clickbank Internet banking login with Handy Password bookmark - manner: the Clickbank button appears right in your browser toolbar as a bookmark. The button stand for filling form fields and the web page URL. So, you can at once enter the online banking solution and log in. Download for free and try now!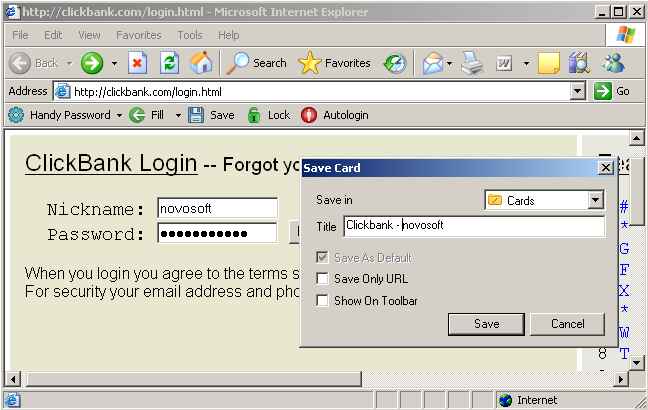 See also:
Yahoo mail login
HSBC banking account screenshot
Bank of America online banking login
Zion online banking login
Huntington online banking login
Account PayPal

Back to Screenshots List