Creating New Cards
All data in Handy Password manager is stored in cards. Cards may serve for automatic filling in web-forms or storing you personal information. Cards can be created in on-line regime as a result of submitting a web-form or you can do it manually, using Handy Passwords tools. You can create new cards of various kinds, including e-mail forms, banking forms and many others.
In the Top Menu (see Main Window) choose "File" --> "New card". In the new appeared window choose card type you would like to create: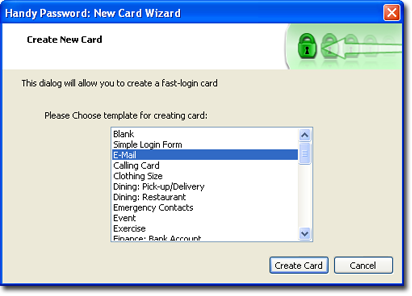 Click "Create Card" when you figured out a form type you need. A new card will be placed in the folder "Cards" of the Card Explorer.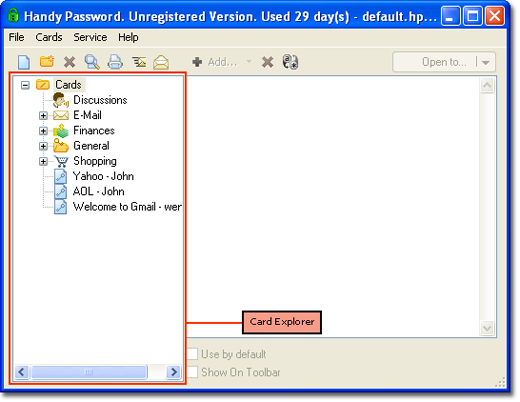 In the right part of the Main Window you can see empty fields of the card you've just created. Fields included in the Login information section are used to login a server. It always contains the URL field and may include optional information: login, passwords, language and so on. In the Additional information auxiliary data is collected. Depending on the card type, it may contain a company name, a PIN number or a preferred price for clothes.
Once you created a card with blank fields, you may fulfil it with your data. Also it is possible to add and delete fields in the cards. To learn more about editing card content, please see Managing cards.
One has also possibility to start a blank card with only "URL" empty field. Or can one create just a login form by choosing "Simple Login Form". In this case you will be asked to input URL, login and password:

If your goal is to login quickly an e-mail server, further you may learn how to create a login e-mail card.
Creating E-mail Login Cards
How to login