Mail Login: Sign in to Your Mail Service Automatically
One of the simplest and most pleasant things on the Internet is to be able to login to your mail service with a single click.
Creating Your E-mail Login Card
Go "File" --> "New Card:" or click

. Choose "E-mail" card type and press "Create card". From the appeared list you can choose a custom e-mail service or select a defined one. In former case the last field, "URL", needs to be filled with the server URL. Supply your login and password and hit "Create Card":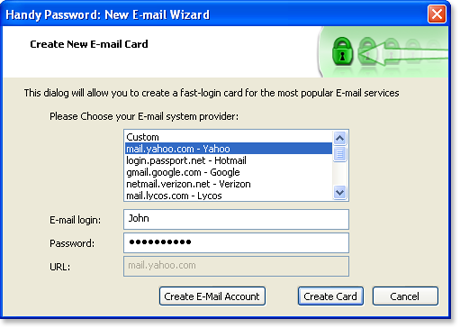 If you wish to receive new e-mail account, choose a mail service from the list and press "Create E-Mail Account". The server's main page will be opened for you to register. After having registered you can complete the card creation by typing down the e-mail login and password as you defined.
The instructions to login automatically should be visible in the next window. After reading the instructions, hit "Done" to finish.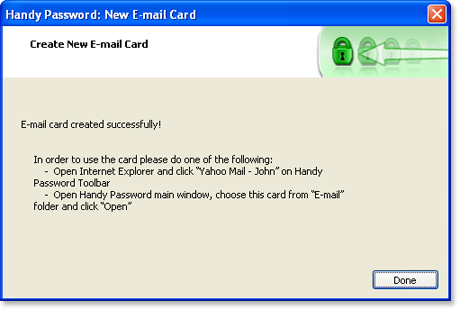 Ways to Login to Web Mail Automatically
The easiest way to login to your mail service automatically is to click on the bookmark of the e-mail card you have just created on the Internet Explorer or Mozilla Firefox toolbar. This way, you will be immediately taken to your mail account.
A more complex way is to press the "Handy Password" button on the Internet Explorer or Mozilla Firefox toolbar, hit "My Cards", choose your e-mail card and press the "Open" button.
Yet another way remains, which is to go to your mail service login page and hit the "Fill" button on the Handy Password Internet Explorer/Mozilla Firefox toolbar.
Download and install Login manager to sign-in to your mail with a single click.
How to Manage Cards in Handy Password