Saving Online Passwords
Saving a Card
Handy Password keeper saves your site logins and passwords and stores them in Cards.

If you need to remember the data you typed in a form, press the

button on the Handy Password toolbar to open the "Save Card" dialog: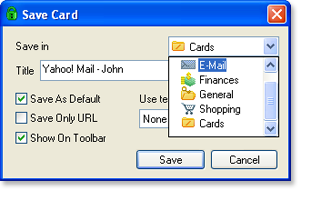 Selecting a Title
Online password storage
automatically generates the Card title from the Web Page title and saves the data. However, you may enter a name for the new Card yourself.
Selecting a Default Card
The first Card for a site is set to be the "Default Card" by default. If you want to set a different Card as a default Card for this site, please press the "Handy Password" button and select
Cards
, find the necessary Card and check the "Save as Default" option.
Use template
You can select a template of a card to which you will save a form. To do it, click the arrow in the Use the template field.
Save only URL
If you want to save only the URL of the selected form, check the box Save only URL.
Show on Toolbar
If you want the bookmark of a given form to appear on your browser toolbar, check the box Show on Toolbar.
How to Import Passwords form IE to Handy Password