Data Storage Settings
If you click the "minus" next to the Data storage, you will see that there are two options where you can store your data. You may select Local computer or Remote Server (if you click "plus" next to it, the E-mail subcategory will appear).
If you click
Local computer
, you will see the following window: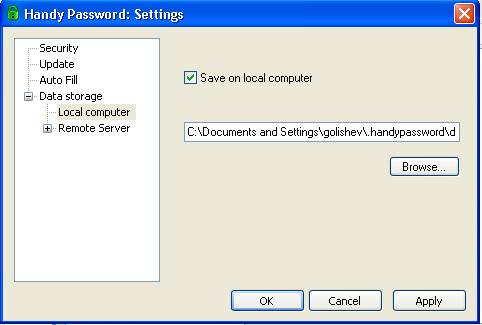 Check the box Save on local computer and click the Browse tab to select the directory for your database or use the default directory.
If you click E-mail, you will see the window with the email settings:
Here you can adjust your email settings such as email server, login, Password, Incoming server, Outgoing server. After you have entered your email settings you can verify them by clicking the Check email settings tab. Or click the Advanced settings tab if your email server has specific settings. When you have adjusted your email server settings, click Apply for the changes to take place. For more information, refer to Database on email server.
Go to Personal Information Settings