IE and Firefox Toolbar
Handy Password acts as an Internet Explorer and Mozilla Firefox toolbar. To make it visible/hidden you should right click on the browser toolbar area and mark/unmark "Handy Password"
Here is the Handy Password toolbar, integrated in Internet Explorer: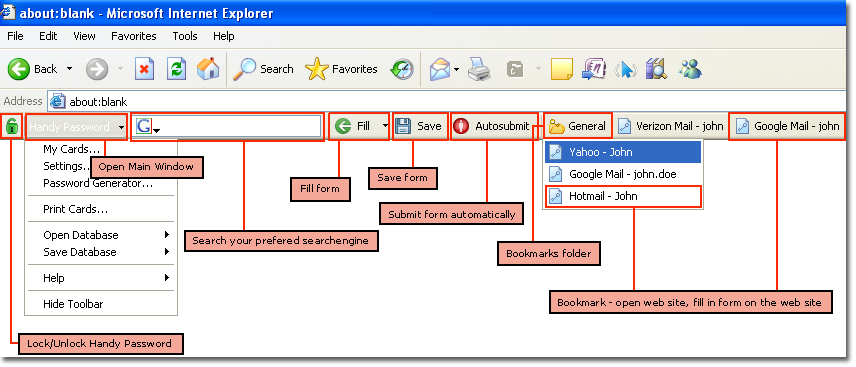 Here is the Handy Password web toolbar, integrated in Mozilla Firefox: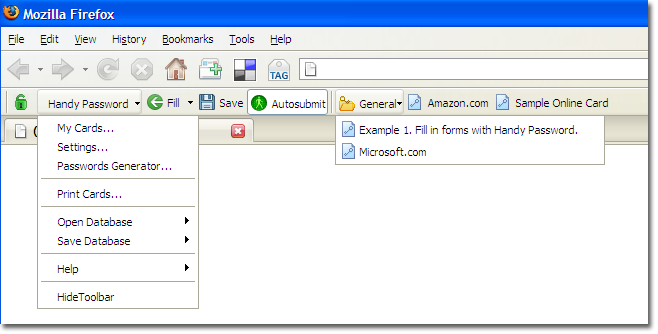 Lock/Unlock: With this toggle button you can lock Handy Password from unauthorized access or unlock it. When unlocking, you will be asked to enter your IE8 password manager. The button symbol will change its color (green/red) when toggling.
Fill: pressing this button fills in the web form fields with the data from the Card and submits it in case Autosubmit is on.
If there are more than one card for this page (e. g., different e-mail accounts for one postal service) the default one is applied. To choose a non-default card, click the black triangle button to the right from the Fill button.

The last option in the dropdown menu is "Fill with personal data". Your personal information (see Personal Info) may contain some data about common fields presented in the web-form, like name or address. When "Fill with personal data" is chosen, it fills in corresponding web-form sections, if any.
Save: With this button you can save data from filled web form to Cards. You can learn about autosave in Basic actions with Handy Password.
Autosubmit: You can disable or enable a function to submit forms automatically with this toggle button. The button symbol changes its color (green/red) according to its status (on/off).
If the

button on the toolbar is "OFF" (the symbol glows red), Handy Password does not submit the web-form when has filled it in.
If

button on toolbar is "ON"(the symbol glows green), Handy Password automatically submits the web-form when has filled it in.
Also you can see Bookmarks, icons in the right part of the Toolbar. These card shortcuts are used for quick access to web-pages, automatic filling in and submitting (if Autosubmit is on).
Search Bar is a tool providing quick access to Internet search engines.