System Requirements
Handy Password is not a resource-consuming utility. To use it, you need:
Windows 2000/XP/2003/Vista with the Internet Explorer v.6.0 or later or with Firefox v.1.5 or later.
Less than 5MB of free disk space
Installation
The installation process doesn't take much time. A Smart Installation Wizard will guide you through the installation process.
To install Handy Password on your computer, you need to have the administrative rights. Before installing the new version of Handy Password, please close Handy Password from the system tray. We recommend you to save your Data Base before installing the new version.
After installing
Master Password
you will be guided to the
Handy Password manager Getting Started
help page to learn how
Handy Password
works.
After the installation, the Handy Password web toolbar should appear as a toolbar in your browser window. If it is not there, try the following:
Make sure it isn't tucked over to the right on the same line as another toolbar at the top of your browser window.
Go to View > Toolbars and make sure the Handy Password option is checked.
Instructions for installing Handy Password on USB
While installing Handy Password on USB flash drive, you must specify the USB flash drive as the installation directory. Follow the instructions below:
1. Connect your USB flash drive to the computer
2. Launch Handy Password setup file
3. In the portable password manager setup dialog that appears, select USB drive as destination. Make sure you specify the drive correctly.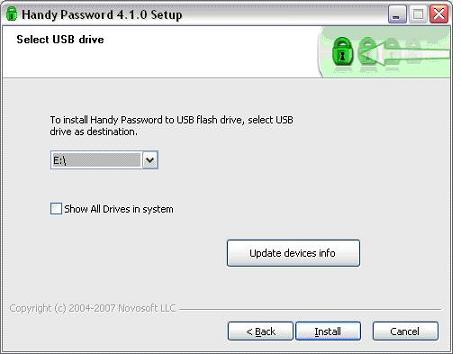 If you launched Handy Password setup file before connecting USB flash drive, click the Update devices info tab. If the USB drive is still not found, check if it is properly connected and click the tab again.
4. If you want to install Handy Password to another drive (not USB), check the box Show all drives in system, then click the arrow to select another drive on your computer.
5. When you have selected the installation directory, click the Install tab to install the program.
Uninstalling
You can perform the uninstall operation through the "Settings" option in the Windows "Start" menu. Select "Control panel", choose "Add/Remove programs", find Handy Password in the list of currently installed programs and click the "Add/Remove" button.
Proceed to Learn Version History